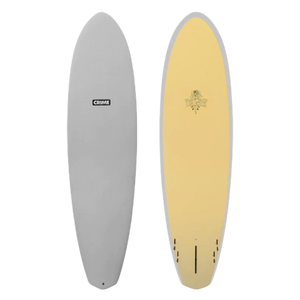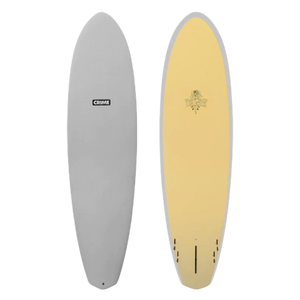 On Sale
CRIME DYLAN GRAVES GREY SAND 7'5
We are honoured to team up with our good friend DYLAN GRAVES on this Bonzer-esque model! Both sizes are made to rip in knee high small surf, perfect grinding hollow tubes, or anything in between!
Get weird or go home!
Ships with a set (2) of CRIME Fiberglass side bite/nub fins (BYO Centre fin or choose to get radical and run a Bonzer 4+1 Set-up)
Dims:
7'1" x 22 x 2.8" x 47.7L - Sand/Red Colourway
7'5" x 22" x 2.8" x 52.2L - Gray/Sand Colourway
Warning: This is not a softboard!
This is like your favourite board with a 5mm full deck grip.
All CRIME Surfboards are designed by CJ Nelson, and are built to be "soft-tops that work".  They are all made like "real surfboards", and constructed from shaped high quality eps foam blanks with stringers (1-3 depending on size), glassed with 2 layers of 6oz epoxy cloth (top and bottom), then finished with a textured 5mm EVA foam skin (which you should not wax), laminated to the deck.  The end result is a highly shreddable, super fun surfboard that performs exceptionally well in most conditions, and that also doesn't wear out like those other disposable soft-tops...