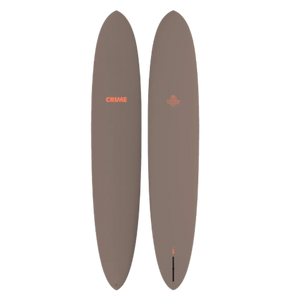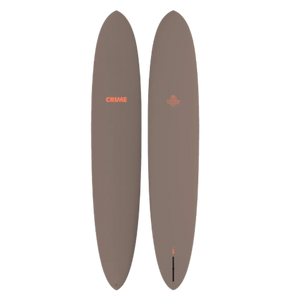 On Sale
CRIME GLIDER TAUPE 11'1
The Glider is a wave catching machine that's built for speed!
With a low entry rocker making it a great paddler, while the classic streamlined profile is designed for trimming and making it around those long, lined up sections.
Fin it up a little smaller to keep it loose, and it can be the ideal board you'll ride on most days to beat the crowd.
Dims
10'1" x 23.5" x 3.19" x 82.5L
11'1" x 23.5" x 3.35" x 94.9L
12'1" x 23.5" x 3.34" x 104.4L
Warning: This is not a softboard!
This is like your favourite board with a 5mm full deck grip.
All CRIME Surfboards are designed by CJ Nelson, and are built to be "soft-tops that work".  They are all made like "real surfboards", and constructed from shaped high quality eps foam blanks with stringers (1-3 depending on size), glassed with 2 layers of 6oz epoxy cloth (top and bottom), then finished with a textured 5mm EVA foam skin (which you should not wax), laminated to the deck.  The end result is a highly shreddable, super fun surfboard that performs exceptionally well in most conditions, and that also doesn't wear out like those other disposable soft-tops...