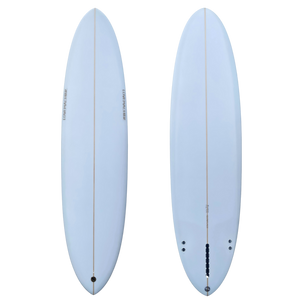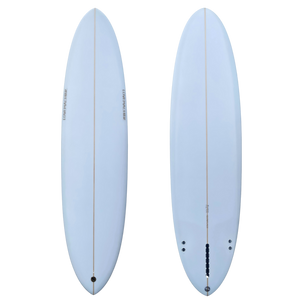 On Sale
LOVE MACHINE THICK LIZZY 7'4
7'4" x 21 3/8" x 2 7'8"
46.15 L
Without a doubt the most ordered custom size ThickLizzy - the 7'4 is compact enough to travel, and packs enough glide to keep you in the water on even the smallest of days. We've found the 7'4 to be SUPREMELY sharable; it bridges the gap as a medium-to-good-wave midlength for the dudes, or a small to good-wave destroyer for the ladies. Ryan hauled one of these around the globe for three years straight on his shaping trips, "covering more ground in a single board than anything I've ever had." or so he says. Compared to the 7'10, this smaller version sports a little more rocker in the front 1/3, as well as a turned up nose vs. the sleek 'beak' of the 7/10.
Center fin: 7.75" v.Bowls, or similar with narrower profile for lighter surfers.
*Essential Lizzy notes: Ryan took this version on his shaping trips around the world for about two and a half years with rarely another board; California, Baja, Hawaii, Indonesia, Europe, Australia and Morrocco - all fit well and the 7'4 immediately became a staple size. Onshore dribble to double overhead tropical reef passes, she fits the bill.