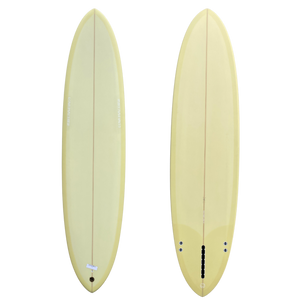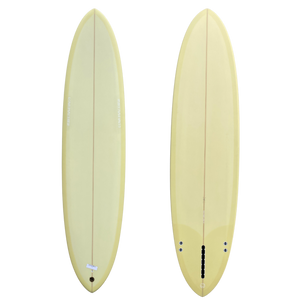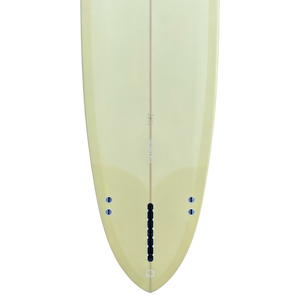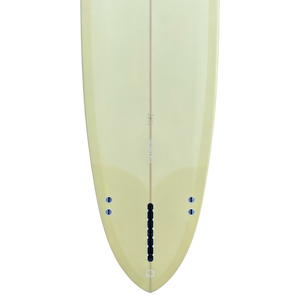 On Sale
LOVE MACHINE THICK LIZZY YELLOW TINT 7'10
7'10" x 22" x 3"
54.52 L.
ThickLizzy numero uno, scanned from the magical experiment that Trevor Gordon has ridden into the ground. The experiment that became one of the most notorious quiver-killers on the California coast, shaped in 2015 as a compliment to the v.Bowls, looking for something more suited to flatter faced waves and easy glide - walkable and capable in a super wide variety of conditions, the Thicklizzy very quickly became Lovelace's most popular shape and has proven itself extremely adaptable for surfers of all types. Set up as either a single fin (Ryan's pick) or in it's original three-fin bonzer style that Trevor prefers, these things make trim speed when you thought there couldn't be any left.
Center fin: 7.75" v.Bowls, or similar with narrower profile for lighter surfers.
*Essential Lizzy notes: Funny story, when Trevor first tried this board in '15 it didn't seem to click - it got shelved for a few weeks until he took it out minus the center fin; it proved SUPER fun with just the side fins as a pseudo-finless sled. Soon after the fin went back in and the design started to unlock and spread like wildfire - try it without that center fin and see what you find!
Original description from Ryan's blog in 2015:
"My favorite round pin template used as the nose and tail template to make an identical 50/50 outline. glider style 70/30 down rails, triplane bottom with deep double concave through the tail. Was going for a mini-glider kinda thing, with lots of hold and bite on the rail to handle steeper sections - have always liked more foiled out glider type boards, and this proved a good time to explore one. Vs. the v.bowls - Thick Lizzy rides high on the water's surface and planes out faster in lower-quality surf; can also be cheater-fived for miles. We've found it to be a good compliment to the v.bowls as a longer alternative with a different approach to rail line and foil distribution."