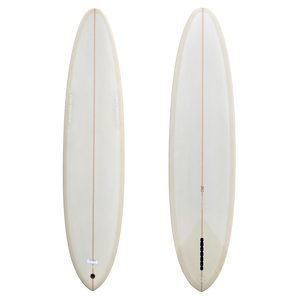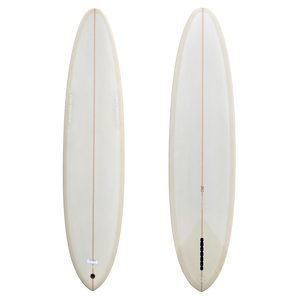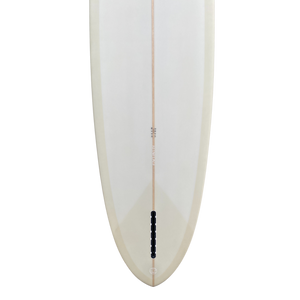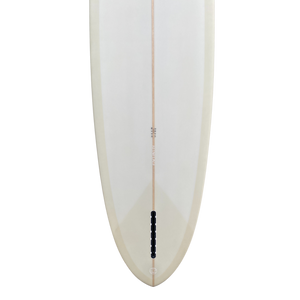 On Sale
LOVE MACHINE V BOWLS BONE TINT 8'0
7'6" x 21 1/4" x 3"
47.91 L
Ryan has often described the 7'6 as a dividing-line in the v.Bowls length decision-making process. Going longer creates a more specifically small-wave board, and as you go shorter the straight-line glide of the v.Bowls starts to lessen with every inch subtracted. The 7'6 is long enough to glide and cruise, and still wrap a tight arc. v.Bowls do classically like a bit of tension in the wave face, so you can have confidence pulling this out when the waves get good; the better the wave, the better they go!  
This variation, the TP (tri-plane) allows the board to plane out on flatter faces quicker than the fully convex versions, while keeping the rail line, rocker and foil completely intact.
Essential v.Bowls notes:  very foiled and curvaceous, these should be ridden from the back and with loose ankles & knees -  jumping and pumping will stop them dead in their tracks and break the flow that they enjoy harnessing to create speed.  Unlock the ball-bearing feel with a narrow stance towards the back 1/2 of the board - this is where you'll find the v.B's happy place - drive it from there, arc it from there, trim it from there or forward when the wave stands up, thats the engine room of the design!  
*8.5" v.Bowls fin center to forward in the box to start, if the board feels like it is dragging an anchor or your buddy who's watching says you're going slow, your fin is too far back.   If the v.Bowls isn't extremely loose, you're still too far forward (you'll know what we mean when you get there).