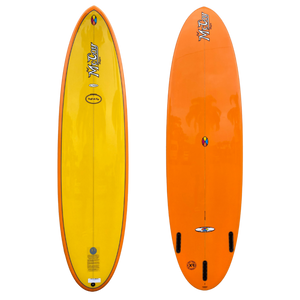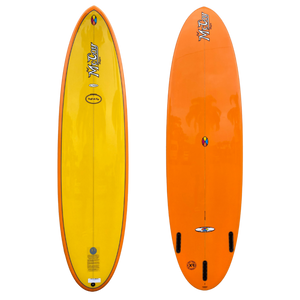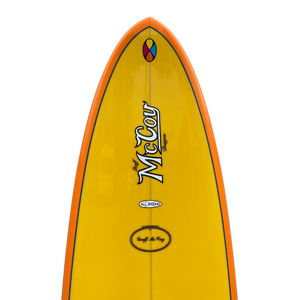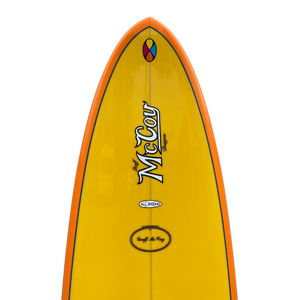 On Sale
MCCOY ALL ROUND NUGGET SUNRISE POLISH
This design is the first Nugget shaped in 1994.
Proven to be a very versatile performer in a wide range of wave conditions from all around the surfing world; thicker wider and shorter with more volume and buoyancy than you have had before, easy to paddle and catch waves, easy to control, with more speed than you have had in years! When it starts to barrel, you will be laughing.
-Geoff McCoy
Flax fiber cloth is an engineered reinforcement fabric made from the bast of the flax seed plant. Incorporating flax fiber cloth in the lamination reduces the use of regular glass by 1/3rd and adds a great earthy look and more importantly helps lower our carbon footprint.
The manufacture of EPS foam does not involve the use of toxic isocyantes used in the production of regular surfboard blanks. EPS foam has more buoyancy and flotation increasing paddling speed and maneuverability.
SR GreenPoxy 56 is an epoxy resin which has up to 56% of its molecular structure coming from plant origin.
Wave Height| 2-6 ft
Drive/Speed| 5/5
Paddle Power| 4/5
maneouvrability| 4/5
Board Dimensions
5'8" 19 3/4" 2 5/8" 35LTS
5'11" 20 1/4" 2 5/8" 37LTS
6'1" 20 3/4" 2 3/4" 41LTS
6'3" 21" 2 3/4" 43LTS
6'6" 21 1/4" 2 7/8" 47LTS
6'8" 21 1/4" 2 7/8" 49LTS
6'10" 21 1/2" 2 7/8" 51LTS
7'0" 21 1/2" 3" 55LTS
7'2" 21 1/2" 3" 56LTS
7'4" 21 3/4" 3 1/8" 61LTS
7'6" 21 3/4" 3 1/8" 63LTS